News


Professors spearhead art, poetry exhibits of an American activist

Zoe Williams October 25, 2018

Elizabethtown College is showcasing the artwork and poetry of French-American activist Lawrence Ferlinghetti until Wednesday, Nov. 21. His artwork can be viewed in the Lyet Gallery on the second floor of Leffler Chapel and Performance Center, and his poetry is on display at the Bowers Writers House.
Essential figures in bringing these works to the campus are professor of art Milt Friedly and Bowers Writers House Director Jesse Waters. These two professors curated Ferlinghetti's works on campus, with the assistance of Ferlinghetti's personal friend and George Krevsky, '62.
There is a lot to unpack and contextualize with Ferlinghetti's work, and it is for this reason that his work has been and continues to be considered so important.
In his director's statement, Friedly described Ferlinghetti's artwork as "well informed, daring, expressive and challenging."
Similarly, Waters describes Ferlinghetti's poetry as having "a certain amount of visceral, sensual depth."
When trying to ascertain why the College is showcasing this particular artist at this time, there are two main responses. The goal in showcasing Ferlinghetti's works is, in part, to give alumni visiting for Homecoming "the chance to experience something new, unique, and international" on campus, according to Waters.
Beyond appealing to returning Blue Jays, there is also a political context to this campus exhibition as shown by Krevsky taking the time prior to reading his selected Ferlinghetti poems aloud to implore the attending audience to vote in the upcoming midterm election.
"When you face the world, I want you to vote because democracy has a gyroscope, and you're part of the gyroscope," George Krevsky said. "Whatever you believe in, make it happen."
Krevsky, in curating his friend's works, claimed to have a particular pull towards the painting entitled "Liberty #5 (Tilt)" which portrays the Statue of Liberty sinking into the sea.
"I think democracy is very fragile right now, [so] I wanted that painting shown…we need to really pay attention to what is going on in the country we love," he said.
Friedly described Ferlinghetti's work as transcending "just making 'art for arts sake'; [The pieces] are a voice that speaks loudly to injustice in this world, a voice that carries courage for new generations to move forward."
In thinking about the impact of Ferlinghetti's poetry, Waters agrees that "now is the perfect time to showcase the art and poetry of someone like Lawrence [Ferlinghetti] because it shows a kind of creative and critical thinking that we all need to be engaged with."
In talking with some of the attendees of the Bowers Writers House's poetry reading, there was a similar sense of Ferlinghetti's importance.
Senior Emily Wieder expressed that she was intrigued by how Ferlinghetti's work had a quality to it that was "weird, not quite surrealist, but definitely avant-garde."
Nicole St. Pierre, '12 read a poem of Ferlinghetti's at the event. She did not have a familiarity with Ferlinghetti until Waters had offered for her to read "Wild Dreams of a New Beginning," but after experiencing his works found an appreciation for how his poems "read like a story."
She also spoke more broadly about the Bowers Writers House and its events, valuing them as "a good way to introduce lesser known artists" and emphasizing that they "encourage the community to engage with different authors."
When asked how he would summarize his friend's work, Krevsky offered that he felt it was, in one word, "gutsy."
Waters echoed this, elaborating that it was more of a "bohemian gutsy."
As Ferlinghetti says himself in his poem "The Dog," he has "something to say / about reality / and how to see it / and how to hear it."
While in a bookstore in the San Francisco Ferry Building, Krevsky wrote a poem to Ferlinghetti, lamenting how his works had gone "ignored by passerbys / who barely knew your name / never knew your fame."
As a result of the collaboration between Krevsky, Friedly and Waters, Ferlinghetti has the opportunity to be known once more.
LNP/Lancaster Online

Elizabethtown College celebrates beloved Beat Generation poet with reading and art exhibit

https://lancasteronline.com/features/together/elizabethtown-college-celebrates-beloved-beat-generation-poet-with-reading-and/article_0455e1ec-d31f-11e8-a474-776b466af4dd.html

JON FERGUSON | Staff Writer




Oct 19, 2018



For more than 25 years, George Krevsky has been working hard to get people to focus on the paintings of Lawrence Ferlinghetti.

Krevsky, a 1962 graduate of Elizabethtown College who owned an art gallery in San Francisco, has mounted exhibitions of his work all over the world.

And a recurring theme has consistently cropped up during all those years.

"Invariably," Krevsky says, "I'll be at an art fair and have Lawrence's work on the wall and someone will walk up and say, 'Ferlinghetti. I didn't know he was a painter.'?"

"And it drives Lawrence crazy. He's always tried to keep his two careers separate."

His other career, of course, is in poetry. As one of America's pre-eminent poets, Ferlinghetti, who is 99 and also has distinguished himself as a publisher and bookstore owner, helped spark the San Francisco Renaissance and was a key member of the Beat Generation in the 1950s.

Visitors to Elizabethtown College can indulge in Ferlinghetti's twin gifts for writing and painting as the school currently has an exhibit of his paintings and is hosting a reading of his poetry.

The tribute to Ferlinghetti is the brainchild of Krevsky, Jesse Waters, the director of Elizabethtown's Bowers Writers House and Milt Friedly, a professor of art at the college.

Those three men, plus Carl Strikwerda, the president of the college, Carmine Sarracino, a professor of poetry, and four students, will read some of Ferlinghetti's poems at 6:30 p.m. Saturday night at the Bowers Writers House, 840 College Hill Lane.

"His poetry," Waters says of Ferlinghetti, "is simply so accessible and very friendly in voice, but intense in idea and nature. That, I think, makes him a very enjoyable poet."

Waters notes that Ferlinghetti, a co-founder of San Francisco's City Lights Booksellers and Publishers, has also excelled as an editor and publisher. He was arrested for disseminating obscene literature after he published Allen Ginsberg's "Howl" in 1956.

"What makes him particularly special as an American icon is the fact that you can probably count on one half of one hand the number of artists who have been as prolific and as successful as he has in editing, writing, publishing and painting," Waters says.
Exhibition curator

The exhibition, which will be on display through Nov. 21, includes about 20 of Ferlinghetti's paintings. There also are paintings (including one of Beat writer Jack Kerouac) and photographs (including one of Ferlinghetti and Krevsky) by other artists included in the exhibition, which is installed at both Lyet Galley in Leffler Chapel and the Bowers Writing House. The exhibition was curated by Krevsky, who worked as a social worker before opening his art gallery in San Francisco, where he moved in 1972.

"I am curious to know the reaction that we get to the work," says Krevsky, whose mother lives in Harrisburg. "Some of it can be fairly controversial, much of it political, some lyrical ... I am proud to be showing the work."

Krevsky says he first became familiar with Ferlinghetti when he was serving in the U.S. Army at Fort Knox in Kentucky and kept a copy of "A Coney Island of the Mind," perhaps Ferlinghetti's most famous book of poetry, in the pocket of his field jacket.

He later met Ferlinghetti at a fundraiser and learned he was a painter. He remembers the first time he saw his artwork.
"I was just blown away," he says. "It took my breath away. ... I've spent a career trying to let people know he is indeed a painter."

Krevsky says Ferlinghetti would have visited Elizabethtown for the exhibit but is facing some serious health issues.


IF YOU GO

• What: "Under the City Lights: Lawrence Ferlinghetti, a Celebration."
• When: 6:30 p.m. Saturday.
• Where: Bowers Writers House, 840 College Hill Lane, on the campus of Elizabethtown College.
• Info: etown.edu, 717-361-3748.
• Art exhibit: Ferlinghetti's paintings are on display at Lyet Gallery in Leffler Chapel and the Bowers Writing House through Nov. 21.
East Bay Express
May 23-29, 2018


Women at the Forefront
At Berkeley Art Center, a new exhibit showcases the work of 10 local women who deserve more recognition
By Lou Fancher
Highly regarded women artists no longer must be like Hildegard von Bingen, the 11th-century nun who operated under the dominion of a male god. Nor are women subjugated to play unacknowledged helpers to male artists, which was common a mere 100 years ago. Even so, the work of professional women in the arts is often overlooked, undervalued, or outright ignored in exhibits, performances, museums, libraries, and the marketplace.
In response to such inequities, one could flail their hands, pay lip service, or give up in frustration. Or, a dozen people could band together to present the fine artwork of 10 Bay Area women whose painting, sculpture, drawing, photography, and printmaking spans decades.
Wonder Women: Local Treasures at Berkeley Art Center (1275 Walnut St.), which debuts Thursday, May 26, and runs through June 30, features Helen Berggruen, Kay Bradner, Stacey Carter, Dana DeKalb, Lisa Esherick, Robbin Henderson, Naomie Kremer, Diana Krevsky, Tabitha Soren, and Jan Wurm. George Krevsky is the curator.
If there is a through line to the exhibit's wide range of mediums, styles, and thematic content — other than gender — it is the works' invitation for active participation. The artists deliberately leave loose ends, as if to suggest that a viewer complete the visual storytelling. Instead of displaying false power by over-controlling the narrative, the art offers provocative, complex subjects in tight or unusual compositions. A person's history, reality, biases, interests, and other concerns are as much a part of taking in the art as eyesight. That raises the question: Will men and women view it differently?
Already, response to Krevsky's role as curator provides a clue. "I'm getting pushback from the art community on what I say, who I'll bring in as moderators," he said. "I'm asked, 'Why's a man doing this? Why aren't there more women on the panels?' My answer? This is art through one male person's eyes."
Don't be fooled — Krevsky is correcting what he perceives as an oversight. "I simply felt these are fabulous women artists making statements for years that the art world did not give the recognition they deserve," he said. "I've been lucky as an art dealer/curator to have great teachers, many of them women, who taught me about viewing art. Politically, we've become divided on gender issues. Whether men look at art differently or men artists paint differently is secondary."
Even though Berkeley-based artist Jan Wurm believes separating male and female artists risks exacerbating inequities in the art world, she still chose to participate for the opportunity to discuss the topic of women artists. "I don't see this exhibit as setting up a parallel system: It's one event in time, not a matter of joining or creating a women's collective like in the '60s," she said. "Of course, it's still important to be viewed as an artist without gender classification."
Wurm's vibrant paintings are independent of narrow, only-of-the-moment time frames. While "Trance," "Trick," and "Trust" were completed in 2007, they bristle with relevancy at a time when women are speaking out against abuse at the hands of powerful men. They feature male-female relationships that are masked — both literally, in scenes drawn from magic acts and circuses, and figuratively, with men positioned as dominant to women. "I've been involved with men and women and power for a long time," she said. "It's about smoke and mirrors, deceit, skills — like the knife thrower where danger is masked but the thrower can actually see through the black fabric. It appears beyond belief when it's not. It's a sham — it's us wanting to believe in magic power. That's in relationships, too."
Dana DeKalb was born and raised in Indonesia until age 15. It could be said her art is "outsider art," except that the imagery embeds itself in classic, good-versus-evil narratives. The first art-related images she took to heart were Renaissance paintings depicting the lives of the saints — and comic books. Both feature protagonists and tell partial stories, as do the museum dioramas of ancient cultures she admires that blend science, mythology, archeology, art, culture, and history.
DeKalb's paintings allow viewers the same satisfaction of imagining various stories that she felt during childhood trips to museums and art galleries. In "Harmony," which depicts a little girl playing with toy balls, the girl could also be interpreted as a young god or mythical creature creating planets. "Catch and Release," DeKalb said, could be seen as a man trying to trap a flock of birds in an impossibly small birdhouse or a metaphor for seeking order in a chaotic world.
DeKalb wishes gender was not a factor when evaluating art. "Since we don't live in anything like a perfect world, the voices of women in the arts are largely drowned out and we have some serious catching up to do," she said. "For now, at least, the best thing women — and sympathetic men — can do is continue to support each other and celebrate our strengths."
Stacey Carter's multimedia prints, "3 Mile Island," "Obama," and "Surfers," document history through time-honored photography, printmaking, and painting techniques. For "Surfer," she found the original photo at a flea market. She treated the image, printed it, and transformed it with 30 to 40 layers of color. "It evokes a mood that vacillates between old and new," she said.
Memory plays a role in these pieces. She remembers the 1979 explosion at 3 Mile Island, for example. "The past informs the future," Carter said. "The nuclear stuff — didn't we decide a long time ago that's not the way to go? Now it's coming up again. We have to be aware."
Awareness comes with reminders and repeated exposure. If it's true that the past informs the future, then the end result of Wonder Women will be a balanced playing field for women artists. "Our time has come. Enough already," Carter said. "Being a wonder woman is surviving in a male dominant society. When people meet me, thinking my work is 'guy art,' they're surprised. I wonder, would I sell more work with a male stand-in? I might try it sometime to see what happens."
Rockridge News: Eyes on Rockridge

Rockridge Art Dealer Swings for the Fences with Baseball Exhibit

by Judith Doner Berne, May 2016

When long-time Rockridge resident George Krevsky was growing up in Harrisburg, Pennsylvania in 1950, Jewish kids were not welcome to play on the city's Little League Baseball teams.

"So Jewish merchants sponsored 'A League of Our Own,'" Krevsky said, as he showed me a 1950 team photograph in which he and his fellow players had JWV (for Jewish War Veterans) written across their "away grays."

"I was the best Jewish first baseman since Hank Greenberg," he told me with a smile. And with another, "We had some ringers -- a couple of kids from the Catholic School."
For the young Krevsky, the vacant lot across the street from his house "was a place where I could play ball and feel safe at home.
"Over time," he said, "that 'lot' for me became a Little League field, then a Class "B" Minor League Park, Shibe Park (later Connie Mack Stadium) in Philadelphia, Beaver Field at Penn State (where he was student manager for two years for the Nittany Lions baseball team), Yankee Stadium (while he was getting his masters in social work), Candlestick Park and finally the Oakland Coliseum."
As an adult – social worker, turned play producer, turned art dealer – it became a Father's Day ritual for him and his now adult daughter, Shani, to head to the ballpark. "The game just touches me in a certain way," Krevsky said.

From 1998 to 2014, he combined his love of baseball with his love of art by assembling annual "Art of Baseball" exhibitions at his George Krevsky Gallery in San Francisco. They always coincided with the opening of each baseball season.
His initial exhibition was inspired by a 1997 Smithsonian show that featured artists and writers on baseball…
It was advanced when it turned out that Berkeley Repertory Theatre artistic director Tony Tacone, then at the Eureka Theatre, was putting on nine one-act plays the next spring, each representing an inning of a baseball game…
It became: "Let's do an exhibit to go with Tony's production."
The baseball shows were an easy sell. "I have been astonished to find how many artists share my enthusiasm and how our exhibition appeals to both the seasoned collector and folks who may never have been in an art gallery before," Krevsky said.
But in 2014 he and seven other art dealers were forced to vacate their galleries so a dot.com company could take over their Geary Street building. "After 25 years, I was sure they would give us some notice," he told me. "They gave us 30 days."
Krevsky moved his business to his Rockridge home and the baseball exhibition appeared to be the last batter on the losing team, striking out to end the ninth inning.
Luckily an extra inning loomed -- thanks to Carrie Lederer, curator of exhibitions and programs for the Bedford Gallery at the Lesher Center for the Arts (LCA) in Walnut Creek
"I approached George more than a year and a half ago," Lederer told me. (Full disclosure, Lederer. like myself, is a Detroit native and a Detroit Tigers fan.) "It was an opportunity to work together and to build out the show. I was interested in showing the historic perspective" – for example, several pieces of art represent the Negro League and a series of vintage photographs the early days of women's baseball.
When Steve Lesher of the Lesher Foundation enthusiastically pitched in with funding, it was game on. And "Safe at Home, A Short Survey of Baseball Art" is showing now through June 12 at The Bedford Gallery.
Lederer and Krevsky teamed up as co-curators. "We had one rule," Lederer said. "We would put all the artists on the table and pick those who we both agreed on. We played well together."
"Carrie brought a dimension of quality and contemporary art that enhanced what I had been doing and brought it to a museum level," Krevsky told me. "There are almost 200 items in this show which is vastly larger than my space. Normally I showed 30 to 35 artworks in an exhibition."
The 88 artists range from household names such as Andy Warhol and LeRoy Neiman to locally-based sports photographer Brad Mangin and sculptor Lauren DiCioccio. Approximately 25 percent of the pieces have been lent by their owners and are not for sale.
"What's been wonderful," said Lederer, who lives in Oakland, is to see that it has attracted an intergenerational audience and that people are arriving in their tribal colors. Baseball is a language we understand. It's part of our country's history."
Unlike many art openings, no one wore black. The gallery was crowded with people of all ages, baseball hats were standard garb and peanuts, cracker jacks and, of course, hot dogs and beer were standard refreshments.
Although he misses his San Francisco gallery, Krevsky said, a benefit of his move is spending more time and becoming more active in Rockridge and in Oakland.

"In 1983, I came kicking and screaming to Rockridge" because San Francisco (even then) had become pricey. But when their ranch-style house was destroyed in the 1991 Berkeley-Oakland Hills fire, he and his wife, Doris Krevsky, chose to rebuild because "We had grown to love this community."
Now a backyard building that formerly was Doris' gardening shed has been remodeled as George's office, complete with a baseball mezuzah on the entryway. "We call it the art garage." Doris, who is his CFO, plus part-time assistant Lisa Beyers, a Rockridge resident, both work within the house itself.
They live within a walk of the Chabot Canyon Racquet Club where George has recently joined Doris on the courts. They are regulars at Wood Tavern, love the Oliveto Café, shop regularly at Market Hall, find Maison d'Étre a great home store, and patronize the Rockridge Library.
The Krevskys hosted an open house for friends and neighbors to meet Mayor Libby Schaaf when she was running for office. They are scheduled to hold a similar gathering for City Councilman Dan Kalb as he seeks re-election.

Asked to pick his favorite works from the Safe At Home exhibit, George said: "I love the Warhol (a silkscreen print) of Pete Rose" and Napa artist Richard Newman's hyperreal baseball glove sculpture.
I hadn't planned to do this column. But the exhibition was so exciting, I couldn't help myself. And I see it as a perfect field for parents and grandparents to enjoy art with children. Now, if only my 11-year-old grandson, a Peralta School fifth grader, had any interest in baseball….

Art galleries swallowed up by S.F. real estate boom
Kenneth Baker, January 2014

In another blow to San Francisco's ailing downtown gallery district, several prominent art galleries have received eviction notices - the latest casualties of the city's commercial real estate boom.
The George Krevsky Gallery, the Rena Bransten Gallery and Patricia Sweetow Gallery, all occupants of 77 Geary St., will be leaving soon to make way for their high-tech neighbor, MuleSoft, an Internet services company that needed to expand.
"We live in a tough neighborhood," Krevsky said, "at the intersection of tech and greed. It's impacted the world I've been working in passionately for 30 years."
Several other galleries in the downtown area had already been forced to go dark in recent months, prominently those run by Eli Ridgway, who has since moved to Wyoming, and Don Soker, with more than 40 years in the business. The Togonon and Marx & Zavattero galleries, also former occupants of 77 Geary, were edged out by rent increases earlier. After searching for a year for a suitable address to reopen, Marx & Zavattero announced the end of
its business.
Working from home
"I planned after 22 years to change the direction of the gallery, but not like this," Krevsky told The Chronicle three months ago. "I've talked to my peers in Chicago and Los Angeles, and they're facing some of the same challenges."
Like many other art dealers, Krevsky, who will conduct business from his Oakland home in the near term, sees the very nature of the trade changing, with the waning of an audience devoted to looking at art in person. "Ten years from now," he said, "traditional galleries will be a thing of the past. The auction houses and art fairs will have taken over, and the Internet."
Prospective buyers of contemporary art are increasingly focusing on the purchases as a speculative investment. Art promotion and sales via the Internet have spurred this development. So has the proliferation of art fairs, where galleries vetted by promoters, often on the basis of their business prominence, set out their wares in booths before throngs of strolling visitors. Over the past decade, art fairs have accounted for an increasing share of art commerce, nationally and internationally.
Auctions affect pricing
Meanwhile, auction houses in the United States and abroad have used competitive bidding to drive up prices of what's called blue-chip art to stratospheric levels, leaving in the dust the lower tiers of the art economy.
As far afield as Toronto and London, mid-level art gallery businesses face extinction by fast-growing, cash-rich enterprises hungry for office space in top locations.
"It's not just that you go out and look for another space," said Patricia Sweetow, whose 77 Geary St. mezzanine space will close by summer. "It's about access - will you reach a new audience? What does it cost? Art fairs give you access to an audience that doesn't depend so much on location, if you can pull it off and you're accepted."
Jim Adler of Adler & Co., the sole gallery with a long-term lease at 77 Geary, said: "We're going into our seventh year here. We had an understanding going in that we could extend our lease, and we were happy to do so. ... I'm really sorry that Rena (Bransten) is leaving ... but the landlord is not Darth Vader, and anyone who characterizes it that way isn't being completely fair. They were predisposed to want to keep a cultural mix in the building."
Growing company
MuleSoft's CEO, Greg Schott, said the company has been growing rapidly and had spread into vacant parts of the building, owned by Yale Properties of La Jolla, before being offered the chance to expand in an adjacent space. "It opened up the possibility to continue growing our company in the same building with people who are passionate about living and working in San Francisco," Schott said.
Some former downtown galleries have already sought refuge on more hospitable turf. The Jack Fischer, George Lawson and Catharine Clark galleries - several forced out of the other downtown art showplace hub, 49 Geary St. - relocated in the fall to the area just northeast of Potrero Hill, now known as Potrero Flats.
The Hosfelt Gallery, displaced more than two years ago from its now-demolished Clementina Street quarters, had already staked out the Potrero Flats neighborhood as a potential gallery hub. But as commercial rents surge in that area, too, Hosfelt and the others may again face the dilemma of whether to stay, relocate or do business another way. Artists in the once-affordable area similarly face a rent squeeze.
"I feel the rise of the art fair phenomenon has damaged the local brick-and-mortar gallery model more than gentrification," said Griff Williams, whose Gallery 16 is on Third Street. "Buyers increasingly flock to these mobile art malls to buy, negotiate and cajole, rather than visit and support the local culture in their neighborhoods. And, too often, galleries willingly turn their backs on their one true asset, their role as a gathering place for people and rigorous ideas."
Kenneth Baker is The San Francisco Chronicle's art critic. E-mail: kennethbaker@sfchronicle.com
Rebels, Hipsters, and Visionaries, Bay Area Poets and Artists, 1950s and 60s featuring Lawrence Ferlinghetti and Jack Hirschman at Firehouse North Gallery

Firehouse North Gallery
1790 Shattuck Avenue, Berkeley, CA.
January 10, 2014 - February 22

An exhibition of work from poets and artists, who were part of a golden era of artistic expression, where the visionary art of Robert Duncan, Kenneth Rexroth, George Herms and Wallace Berman overlaps the 'Beat Era' with Ginsberg, Meltzer, and McClure to the revolutionary art of Jack Hirschman, Lawrence Ferlinghetti and beyond.



Featuring: Ariel, Wallace Berman, Robert Duncan, Lawrence Ferlinghetti, George Herms, Madeline Gleason, Jack Hirschman, Lawrence Jordan, Patricia Jordan, Les Kerr, Gui Mayo, Michael McClure, David Meltzer, Ed Moses, Charles Plymell, and Kenneth Rexroth.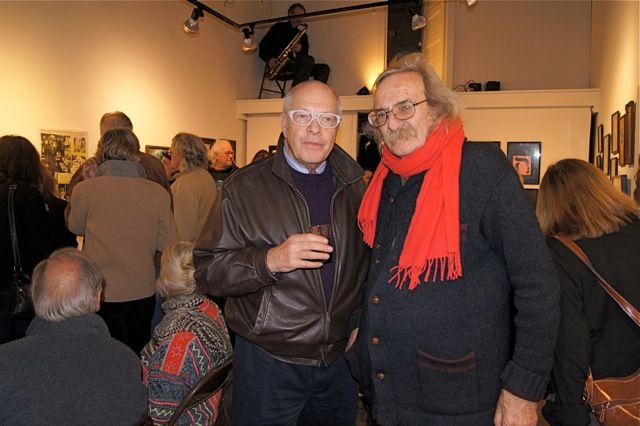 George Krevsky (left) with former San Francisco Poet Laureate Jack Hirschman (right) at the recent reception at the Firehouse North Gallery in Berkeley.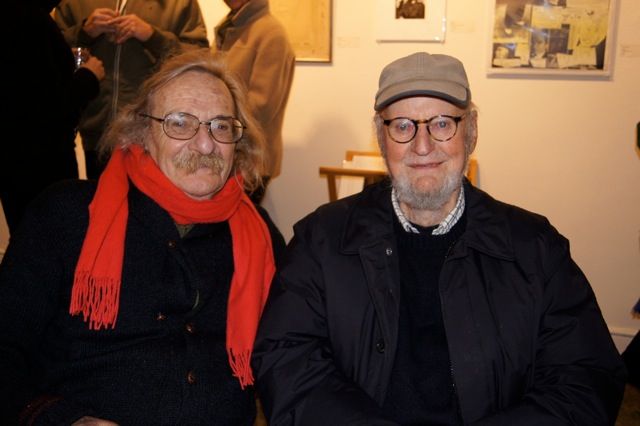 Jack Hirschman (left) and Lawrence Ferlinghetti (right) at the Firehouse North Gallery

Exhibitions in 2014-

George Krevsky Gallery Selected to Offer Beth Van Hoesen Artworks to Benefit the Rainbow Honor Walk





The Rainbow Honor Walk has chosen The George Krevsky Gallery to exhibit a rare selection of more than 20 original drawings, watercolors, and prints of punks, queers, and the Sisters of Perpetual Indulgence by the late Castro district artist. Proceeds will help fund the fabrication and installation of the first section of the Rainbow Honor Walk in 2014, with 20 bronze plaques dedicated to outstanding LGBT individuals, including Allen Ginsberg, Keith Haring, and Frida Kahlo. These available works will be on view from January 3rd to February 1st in 2014.



















_________________________________________________________________________________________
Exhibition Reviews Lawrence Ferlinghetti: Future Woman

One Hundred Years of Pulchritude: Lawrence Ferlinghetti. SF Weekly, June 05, 2013. By Jonathan Curiel


At age 94, Lawrence Ferlinghetti is as feisty as ever -- certainly as feisty as he was in the mid-1950s, when he was arrested and put on trial for publishing Allen Ginsberg's Howl and Other Poems. Back then, after U.S. authorities seized copies of the book ... (see more)

Transforming the World, One Figure at a Time: The Art of Lawrence Ferlinghetti. SF Arts Quarterly. By John Held, Jr.


Lawrence Ferlinghetti is The City's leading poet, publisher, bookseller and public defender of artistic freedom, and we are blessed to have him as a continuing active presence in his 94th year. Add practicing painter to the list (see more)

Future Woman: Lawrence Ferlinghetti opens at George Krevsky Gallery. ArtDaily.org, June 8, 2013



Lawrence Ferlinghetti creates "Future Woman," by drawing on the vision of a passionate male artist.

(see more)


Lawrence Ferlinghetti creates "Future Woman," by drawing on the vision of a passionate male artist. At 94, with his seventh solo exhibition that opened May 30th at George Krevsky Gallery, he shares with us a wide range of lively and expressionistic impressions of the female form. Working from the model in his Hunter's Point studio, he uses splashes of color against a framework of his black and white visual vocabulary. The human figure has come to dominate his mature art.

More Information:

http://www.artdaily.org/index.asp?int_sec=11&int_new=62991#.UbOAMujv13N[/url]
Copyright © artdaily.org

Lawrence Ferlinghetti creates "Future Woman," by drawing on the vision of a passionate male artist. At 94, with his seventh solo exhibition that opened May 30th at George Krevsky Gallery, he shares with us a wide range of lively and expressionistic impressions of the female form. Working from the model in his Hunter's Point studio, he uses splashes of color against a framework of his black and white visual vocabulary. The human figure has come to dominate his mature art.

More Information:

http://www.artdaily.org/index.asp?int_sec=11&int_new=62991#.UbOAMujv13N[/url]
Copyright © artdaily.org


_________________________________________________________________________________________
Art Collectors Forum - George Krevsky Gallery had a successful debut at ArtPadSF at the Phoenix Hotel, May 16-19, 2013. To see images from the booth, click
here
_______________________________________________________________________________________________
George Krevsky, gallery owner 20 years
Julian Guthrie
San Francisco Chronicle
Published 6:06 pm, Sunday, December 23, 2012

George Krevsky opened his namesake gallery in San Francisco's Union Square in 1992 with a retrospective exhibition of Thomas Hart Benton lithographs. Now the gallerist, who specializes in 20th century American art, is celebrating two decades in business. His philosophy remains: "Don't buy art as an investment; buy art that you love and that speaks to you, and the rest will come."

Q: How did you get into the business?
A: I spent the first 15 years of my career as a social worker in a Jewish community center in Fort Worth, Texas. I was organizing art exhibitions to raise money for the nonprofit. My first show was with Henry Hopkins, who ended up being the director of SFMOMA. I didn't know how to hang a painting, and Henry helped me.
Q: What about the art world appealed to you?
A: I studied art at Penn State. One of my best friends was a novelist. My (now) ex-wife was - and is - a great artist. I knew I wanted to do something creative with my life. When I was in New York working on my master's degree in social work, I had met (gallerists) Bella Fishko and Leo Castelli, and I met Andy Warhol.
Q: Tell me about meeting Warhol.
A: I was writing my thesis, and it was really cold in my apartment. I went around the corner for coffee, and I saw this guy with white hair sitting in a storefront showing a movie called "Sleep." It was a 16mm film of a woman sleeping. There were folding chairs, so I paid my 2 bucks and sat down. I watched two minutes and said, "I don't get it." Andy was already pretty famous, but he wasn't famous to me.
Q: What brought you to San Francisco?
A: I was recruited to come here to be the director of the Brotherhood Way Community Center in 1972. I did that until about '77. I then produced theater, and worked part time at the Nathan Gallery on Union Street, eventually finding a way to open my own gallery.
Q: What's the best part about your job, and what's the worst part?
A: Barbra Streisand has a great song, "Bit by bit, putting it together ..." that I love. I love putting it all together, all the pieces, the art. An artist's work is not finished until someone responds to it. My canvas is the four walls of the gallery. And I stand in awe of what the artists do. The bad part is to tell an artist that you can't use his painting, or to have a show that you stand behind but that no one responds to.
Q: Any particular artworks you passed up that you wish you hadn't?
A: A portfolio of 10 prints of Andy Warhol was offered to me in 1979 for $5,000. I had no money at the time.
Q: Where did you grow up?
A: I grew up in Harrisburg, Pa. My dad was a businessman and my mom was president of the school board. There were five of us kids.
Q: What did you want to be?
A: I wanted to play first base for the Philadelphia A's. I was good in the field, but not good at bat. I love the game.
Q: First job?
A: I was a caddie at a country club. It made me understand I would never be a golfer. The game was too frustrating. I felt ... that it was "a good walk ruined."
Q: Where do you live?
A: We live in Rockridge, Oakland. I've been married for 31 or 32 years (we lived in sin for a period). I have a daughter, Shani, from my first marriage. I'm still good friends with my ex-wife. When all of the girls get together, I know I'm in trouble.
Q: Neighborhood hangout?
A: In Oakland, it's Oliveto's. In San Francisco, North Beach. I like City Lights. My favorite spot in the entire world is Crissy Field, looking out at the Golden Gate Bridge. I could sit there for a month.
Q: What do you have up on the walls of your home?
A: Manuel Neri. Lichtenstein. Lawrence Ferlinghetti. Mary Robertson. Jack Levine.
Q: What artworks would you buy if you could?
A: A Pissarro oil painting. A Lichtenstein sculpture.
Q: Any plans to retire?
A: No, I'm not going to retire. I'm just going to change the direction of what I do. I have a lot of energy, and I love the art world.
Julian Guthrie is a San Francisco Chronicle staff writer. E-mail: jguthrie@sfchronicle.com Twitter: @JulianGuthrie
Read more: http://www.sfgate.com/art/article/George-Krevsky-gallery-owner-20-years-4142463.php#ixzz2H29W8tnm
GKG Summer News & Events
Lawrence Ferlinghetti @ Sonoma Valley Museum

Cross Pollination: The Art of Lawrence Ferlinghetti at the Sonoma Valley Museum of Art offers an in-depth look at poet and painter. With a focus on artworks that include the written word and give rise to image making where image and word meld in paint. In addition, the museum will screen Christopher Felver's film "Ferlinghetti", and host literary readings and workshops throughout the exhibition June 23 through September 23, 2012. For more information, visit svma.org.

GKG @ SUGARCANE (46 South Park St.)
Recreation: Woman and Boy | July 20 - September 14, 2012

Summer is a time for family vacations, outdoor recreation, and the hope of sunshine. To bask in visual representations of these themes, visit our satellite exhibition at Kim Pfabe's SUGARCANE. Stop in on your way to the ballpark to view highlights from gallery artists in this beautiful space. The exhibition is on view July 20th to September 14th by appointment only, call SUGARCANE at 415-400-4022. Opening reception Thursday July 26, 6-8:30pm. For more information, click here.

Selections from the Art of Baseball @ 550 California Street

Select Artworks from the 15th Annual Art of Baseball Exhibition are currently on view at 550 California. The exhibition features classic icons from Ruth, Mantle, Wagner and Mays and depictions of home town heroes Tim Lincecum, Brian Wilson and many more. The exhibition runs through July 14th. For more information and a peek at the works available online click here.

Summer Holiday

As a friendly reminder, the Gallery will be closed August 19th - September 3rd for our summer break. We will reopen on Tuesday, September 4th.


______________________________________________________________________________________
6-1-12
Recently George Krevsky was interviewed on the GENE BURNS SHOW on KKSF 910AM giving highlights and insight to the Artistic Visions of the Golden Gate Bridge exhibition. To listen to the full interview, click here
______________________________________________________________________________________
5-29-12
Artistic Visions of the Golden Gate Bridge has enjoyed a number of great press for the exhibition. Below are a few pieces written in response to the show.
______________________________________________________________________________________
5/22/12
The Sonoma Valley Museum of Art will be holding an exhibition featuring gallery artist Lawrence Ferlinghetti opening Saturday, June and running through Sunday, September 23, 2012.
Cross Pollination: The Art of Lawrence Ferlinghetti will feature multiple mediums of his work in exploring the themes of "Her-Woman", the Sea, "Liberation/Pacifism" and Art and Literature.
For more information please visit their website by
clicking here.
______________________________________________________________________________________
4/14/12

The gallery is proud to host a number of special events around our exhibition Artistic Visions of the Golden Gate Bridge. For more information, please feel free to contact us.




Opening Reception

Thursday, May 3rd

5:30 - 8:00 pm




Artists in Conversation - Moderated by Ruth Braunstein

Wednesday, May 9th | 5:30 - 7:30 pm




Tales of the Bridge

- San Francisco Historian and Storyteller

Peter Moylan

Saturday, June 2nd | 2:00 - 3:00 pm




George Krevsky Gallery is honored to have Peter Moylan

at the gallery for an enlightening afternoon discussing

the artworks in Artistic Visions of the Golden Gate Bridge.




Since 1997, with a love of telling stories and a love of history,

San Francisco Walking Tours Guide, Peter Moylan, has been

thrilling tourists and locals alike with fascinating stories of

San Francisco and the city's most beloved landmark, the

Golden Gate Bridge. For more information on Peter Moylan,

click here.




______________________________________________________________________________________
3-30-12




The 15th Annual Art of Baseball's Exhibition has received a number of great press. Here are a few selections.




San Francisco Giants Official Blog

Review |

Click Here

______________________________________________________________________________________



2-10-12




San Francisco Poet Laureate

Lawrence Ferlinghetti

has produced a limited edition portfolio of lithographs at the Kala Art Institute. These prints are currently available through the gallery.

Click here

for more information.

______________________________________________________________________________________



4-9-2011




The Fine Art of Baseball | 14th Annual Exhibition had a visit with ABC 7's Don Sanchez as we gave them a closer look into the exhibition. Take a look!

______________________________________________________________________________________
4-9-2011




The Fine Art of Baseball 14th Annual Exhibition has received a number of great reviews highlighting this dynamic exhibition. Take a look!




KNBR Interview with Gallery Artists Arthur K. Miller

Audio |

Click here 7x7 Magazine

Review |

Click Here

Oakland Tribune Review of artist Barry Gifford's Saturday Salon staged reading

|

Click Here

______________________________________________________________________________________



2-15-11

The following are excerpts from Christopher Felver's documentary "Ferlinghetti" on Lawrence Ferlinghetti.




______________________________________________________________________________________



11-19-2010
Gordon Cook: Out There, will the the inaugural exhibition at the Richard L. Nelson Gallery and Fine Art Collection at UC Davis. Curated by Bill Berkson the selection of paintings, drawings and prints will be on view from January 15 through March 13, 2010. For more information, please
click here
.
______________________________________________________________________________________



9-10-2010

We are sad to announce the death of one of America's greatest Social Realist artists, Jack Levine. San Francisco was a second home to Jack and as his West Coast Representative we were pleased to have had four one person shows since 1994. His major painting "Birmingham '63" 1963 is currently on exhibition and owned by the DeYoung Museum and the WPA painting "Nighttown Scene" 1936 is in the permanent collection of SFMOMA.

"I am primarily concerned with the condition of man. The satirical direction I have chosen is an indication of my disappointment in man, which is the opposite way of saying that I have high expectations for the human race."

— Jack Levine (1915-2010)

Click here for a full length story on Jack Levine and his life and art.

Click here to read Kenneth Bakers remembrance of Jack Levine in the San Francisco Chronicle



-Jack Levine in the gallery, 2004
-Jack Levine and Lawrence Ferlinghetti
______________________________________________________________________________________



10/12/10

We are proud to be holding a Saturday Art Salon.

Helen Berggruen and curator Terri Cohn, will discuss Berggruen's current exhibition "Helen Berggruen: Itinerant Regionalist" at the George Krevsky Gallery. Paintings in this show depict views of Europe, the Midwest and Northern California with vivid colors and vigorous brushstrokes, reminiscent of European Masters, American Regionalists, and American Scene painters, with a fresh and unique vision

.




The Salon will take place in the gallery beginning at 4:00pm.

______________________________________________________________________________________


6-12-10

"Rookies and Pros" Exhibiting Artist and Author Barry Gifford talks with KNBR's Marty Lurie about his artwork and writing in this years exhibition.

Click Here

for the audio from the broadcast.

______________________________________________________________________________________
The George Krevsky Gallery is proud to offer a small edition of lithographs by Sol Sender, the graphic designer responsible for the Obama 08' Logo . Below is a two part interview with Sender about the creation of the design.




2010



Helen Berggruen | Artbusiness.com
Click here to check out Helen Berggruen's review from artbusiness.com




Helen Berggruen | Artworks Magazine


Click here

for Helen Berggruen's recent feature article in Artworks Magazine Fall Issue




Rookies and Pros | The Art of Baseball
Graham Womack reviews the Art of Baseball Exhibition with an art outsiders point of view of the opening reception. Click here for the full article




Gordon Cook | SF Chronicle
Gordon Cook's Exhibition at the George Krevsky Gallery was reviewed by Kenneth Baker, Art Critic for the San Francisco Chronicle. Please click here for the full text.




2009



The Art of Baseball | Oakland Tribune


Click here

for the full article by writer Dave Newhouse.




Richard Lindner | Art and Antiques


Click here

for Peter Selz Critic's Notebook article from the May 2009 issue of Art and Antiques.




Richard Lindner | Artillery


Click here

for Dewitt Cheng's review of Richard Lindner's show in the May issue of Artillery Magazine.



2008



Lisa Esherick | Oakland Tribune
Lisa Esherick's "Casino Paintings" show is reviewed by Dave Newhouse of the Oakland tribune.

Click here

for the full article





2008 Readers' Choice: Favorite Art Gallery
J Weekly honors George Krevsky Gallery for the 2nd consecutive year as favorite San Francisco art gallery.
All of J Weekly's top picks can be found by

clicking here.




Art for Obama
77 Geary galleries join together for an evening of art receptions in support of the Obama campaign. Donations at the door and proceeds of art sales contribute to this historical election. The San Francisco Chronicle covers the evening,

Click here

for article.




Review of Glenna Putt's "In Retrospect"


Click here

to read Dewitt Cheng's review in ArtSlant




Lawrence Ferlinghetti and Freedom of Art
Open Forum published by Kenneth Foster.

Click here

to read.




Maury Lapp "Son of the City"
Review in the JWeekly.

Click here

to read full article.



2007



Lawrence Ferlinghetti
San Jose Mercury News |

Click here

for full article




Lawrence Ferlinghetti
San Francisco Chronicle |

Click here

for full article




John Dobbs
Shotgun Review |

Click here

for full article




The Art of Baseball
Oakland Tribune |

Click here

for full article




Michael Kovner
Jerusalem Post |

Click here

for full review



2006



Lawrence Ferlinghetti and the Beats
Lifescapes Magazine |

Click here

for full article




Michael Kovner
ArtNews |

Click here

for full review




Jack Levine: Works on Paper
San Francisco Chronicle Review by Kenneth Baker |

Click here

for full review




George Krevsky | Art and Artists Panel Discussion
Lifescapes Magazine |

Click here

for full article




Michael Kovner
JWeekly Magazine |

Click here

to read online version